Hola y bienvenidos a españa !
Why Spain and more specifically, Madrid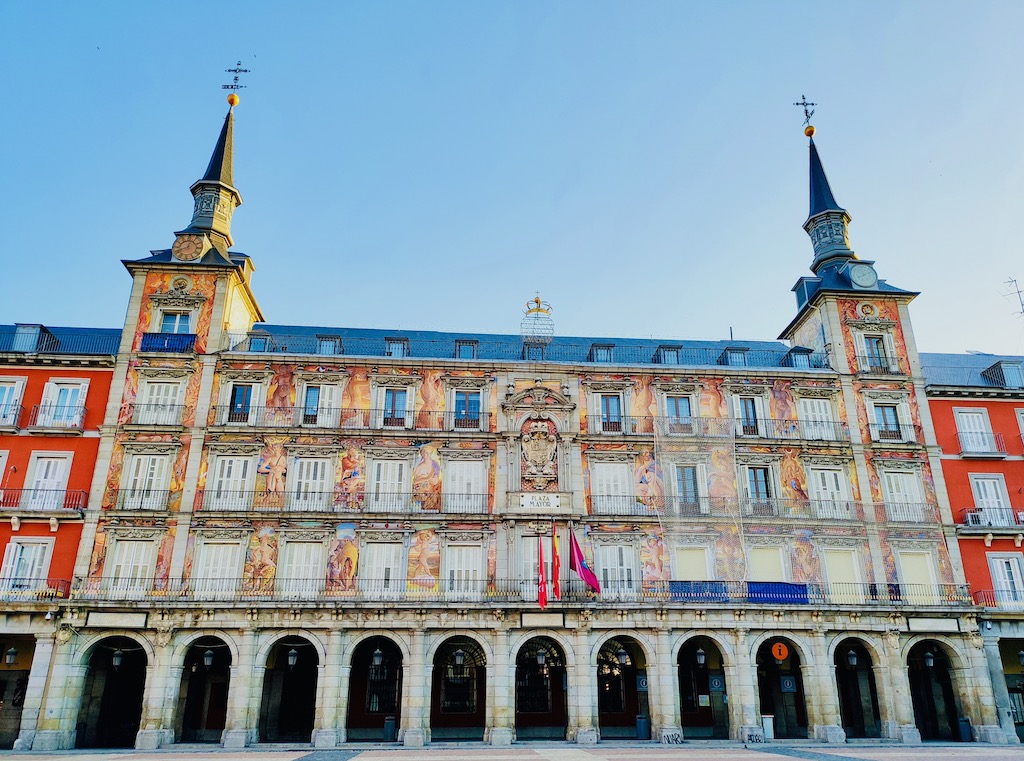 Spain is the perfect summer destination for a sunny seaside holiday. Its Mediterranean coast is world-renowned, and cities like Barcelona and Valencia are popular with tourists. They are among the most visited cities in the country. But Spain is so much more — it is its history, landscapes, culinary specialties, and unique rhythm of life.
As an effect of this rhythm of life, the Madrilenes are affectionately nicknamed "cats"—gatos. Like cats, they live at night and sleep during the day. Of course, the Spaniards have another explanation for its origin. The nickname "cat" would come from a Spanish soldier in the Middle Ages. During a battle against the Moores, the soldier climbed a perimeter wall with his dagger, inserting it into the wall's cavities and using it as climbing hold. From a distance, the other soldiers perceived him as if he was a moving cat. Thus, he would have given the victory to his army and the nickname to Madrid's inhabitants. But one does not become a "cat" so quickly — it takes three generations of Madrilene to acquire the title.
I'll let you make your choice about which origin of the nickname is your favorite!
The slower pace of life is synonymous to the holidays for us, and that's what we were looking for this summer.
For our stay in Spain, we chose the capital, Madrid. Firstly, we prefer to live in a "big city" when we stay for several weeks in a country. Then after some research, we discovered how charming and full of history the city was. There are many museums, monuments to visit, and parks to escape to. It also has a reputation for being dynamic while remaining quiet and safe. Evidently, it didn't take much to make up our minds.
We arrived in Spain in July, the hottest time of the year. The Madrilenes had gone to the sea as well as foreign tourists. So it's not the peak season for Madrid and the city was pretty quiet. So we were able to enjoy the tours and restaurants without the usual hustle and bustle of a big city, which suited us perfectly.
Our flat for 6 weeks
City map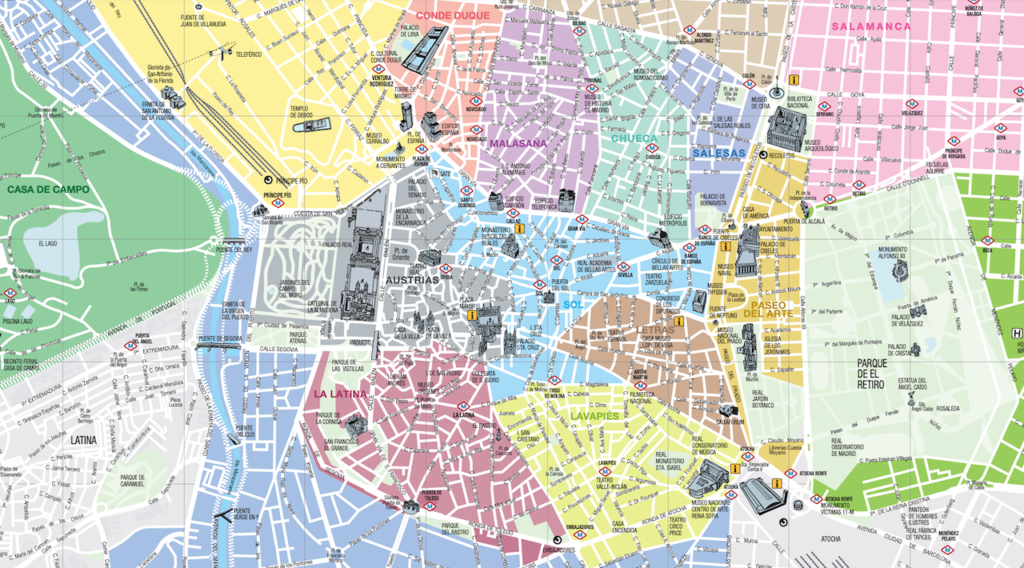 We chose to stay in the city center. The flat was in the Sol district — light blue on the map, and in the end, we didn't regret it. The amenities necessary for our daily living were at our fingertips, as well as bars and restaurants. This is a good thing because I find it enjoyable to be able to walk around when doing trips. There were also two metro stations within 400 meters of our apartment.
However, the city is too large to explore on foot. There are 6 kilometers between Casa de Campo Park, on the left of the map, and the El Retiro Gardens on the right. So we used a great way to get around, the city's bicycles for hire. They are electric, which is a plus, and since there are also many bike lanes, riding is very safe.
Madrid main neighborhoods
Chueca (light green)
The district revolves around its main square, Plaza de Chueca. Chueca is very lively, with many street cafes and everything you are looking for. It is the ultimate neighborhood for partying and the meeting place for night owls and gourmets.
Lavapiés (neon green)
The neighborhood was, for a long time, considered as the most typical district of Madrid. Today, it's a cosmopolitan neighborhood, mostly inhabited by Chinese, Indians, Bangladeshis, and North Africans. Visiting the neighborhood is a trip around the world!
La Latina (red)
The historic district of downtown Madrid reflects the ancient Islamic citadel with its narrow medieval streets and large squares. It is one of the most authentic neighborhoods in Madrid. As it has a working-class population, the evenings and weekends are animated.
El Madrid de los Austrianas (grey)
The Madrid of the Austrians or the Habsburgs. It is the old city center of Madrid, where the Royal Palace and the Almudena Cathedral are located.
Malasaña (purple)
Malasaña is the trendy "hipster" district, full of bars and clubs. It is one of the classic places to party the night away.
Las Letras – Retiro (ocre)
When we talk about the Retiro district, we immediately think of the park which bears the same name, and the museums around — the Prado, Reina Sofía, and Thyssen-Bornemisza museums. Another notable place to mention is the CaixaForum, a socio-cultural center with an impressive vertical garden. This district has now become a relatively wealthy residential district.
Sol-Gran Via (light blue)
The most touristic district, it is the hub of culture and shopping. There are many theaters, cinemas, restaurants, shopping malls on its main artery Gran Via, as well as on its adjacent pedestrian streets.
You can also visit and admire the Plaza del Sol, the most renowned square in Madrid.
Discovery of the city on the day of our arrival and first tapas
Because we arrived in the middle of the afternoon, we took the time to settle in. We travel light so it didn't take us long to empty our suitcases.
We were finally ready to explore our neighborhood, Sol. I realized how beautiful Madrid was with its majestic structures, picturesque side streets, and extremely well-maintained 18th and 19th-century buildings.
For me, walking in Madrid was a journey through time, appreciating the historical influences on the architecture around town.
To name a few: the neoclassicism of the ancient walled city's gates, the art nouveau pictured by the magnificent palaces, or the beaux-arts architecture of the famous Metropolis building. But our discovery was the Herrerian style, typical Spanish architecture, with Plaza Mayor as the main example.

Despite the difficult times that Spaniards went through, they managed to keep their towns and villages spotless. There is no graffiti anywhere and everything is well-maintained. We noticed that it was the case in every place we visited during our stay in Spain.
We continued our visit fascinated by our surroundings. To top it off, the weather was lovely: the sun was shining in a uniformly blue sky and the city's altitude brings an absolute freshness as soon as one finds refuge in the shadow. It's indeed under the shadow of a parasol that we went, eager to taste our first sangria and tapas.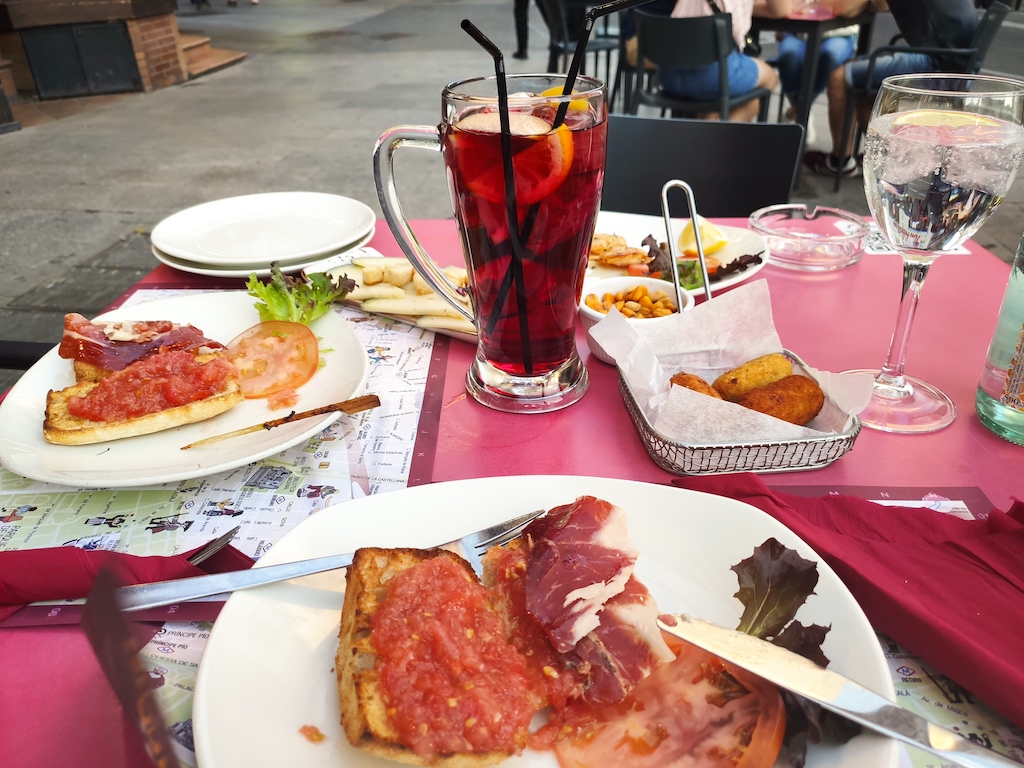 Best things to do in Spain
Here we are in the heart of the matter — what to do when you are in Madrid?
Well, you are spoiled with choices, and that's good. 😃 To help you pick, below you will find some places I visited and activities I've tried. I have classified them by district to simplify the planning for your tour. All you have to do is make your choice.
A little tip before starting: always check the opening hours when you go somewhere. We were at times surprised to find shops and even museums close around 2:00 PM to 4:00 PM, the hottest hours of the day.
My personal opinion:
😍 Do not miss
😃 Go if you have time
😐 Not very interesting
😭 Unfortunately, we couldn't do it
El Madrid de los Austrianas
😍 The Almudena Cathedral:
It is the episcopal seat of the Diocese of Madrid and was consecrated by Pope John Paul II in 1993.
ℹ️ Visiting time (crypt included): 1 hour. It is necessary to inquire about the mass schedule when visits are then prohibited. For the crypt, remember to take your headphones. The crypt's Wi-Fi allows for a free guided tour. Read more
😃 Search for the statues of fallen angels:
The city holds the world record of the most fallen angel statues dedicated to Satan. Read more
Latina
😭 El Rastro:
It is the most popular and oldest flea market in Madrid. It takes place along Plaza de Cascorro and Ribera de Curtidores every Sunday and bank holidays. Unfortunately for us, the market was canceled due to Covid-19. I was disappointed not only because it is on the must-do list, but also because it is a big part of Madrid's history. Of course, we can imagine that it has become very touristy, but it is still the place where Madrilenes come to shop and walk. The market site → https://www.elrastro.org/
😃 Outdoor municipal swimming pool: (centro deportivo municipal Casa de Campo)
It's the most frequented pool in Madrid, which means it's always relatively crowded. The environment is pleasant. There are two large swimming pools and a paddling pool. One can sit in the sun or easily find places where there is shade. The changing rooms are perfect. As there are no shops inside, don't forget to bring some water and snacks if you fancy. We had to purchase tickets online to access the pool. Also, due to COVID-19 the number of people allowed was limited. The site → https://deportesweb.madrid.es/DeportesWeb/CarritoResultado. You must register to buy the tickets.
😍 The Casa de Campo and Huerta de la Partida park:
Casa de Campo is the largest park in Madrid. A corner of the park houses a small lake among other infrastructures such as sports equipment, cafés, and restaurants. Unfortunately, there is not much room around its shores to sit down and have a relaxing time. On the other hand, I enjoyed walking and running here because most of the park is uninhabited and natural. As soon as you move away from the infrastructures, there is nobody else but rabbits! Regarding La Huerta de la Partida, this viewpoint is without much interest. As it's situated at the park's entrance, it wouldn't be a significant detour if you want to see for yourself! 😉
😃 Madrid Rio:
Madrid Rio is the seven-kilometer esplanade on the shore of Manzanares, a river that flows west of Madrid. It has been restored recently and became a fun place to go to for a walk. Alongside the riverbed, there are playgrounds for children to play in, historical monuments to admire, and resting areas to relax on.
We decided to do our stroll with electric bikes, which made it all the more enjoyable! We started from King Bridge until "Matadero Madrid," a cultural space built in the city's old slaughterhouses. The buildings are magnificent, but in my opinion, the exhibitions are more for those who are passionate about contemporary art. Art lovers, take note!
😭 A short cable car ride:
This cable car is part of public transport in Madrid. It costs a metro ticket, connects the Oeste Park to the Casa del Campo park, and allows for you to admire the city from a different perspective.
Sol-Gran Via
😭 A Flamenco show:
Unfortunately, we were unable to attend a flamenco show. The clubs were closed because of COVID-19. Yet another genuine disappointment. I think it's an experience not to be missed at all costs! What is Spain without flamenco?
😍 A cooking lesson:
A magnificent time! It took us four hours to make our sangria and tapas and savor them all. Eduardo, our chef during this lesson, was excellent. Welcoming and smiling, he told us about Spain and its traditions with passion. His website → www.cookingpoint.es. The recipes
🙂 El Corte Ingles' terrace:
This terrace stands on the top floor of El Corte Ingles shopping center at the entrance located at 4, Calle del Carmen. When you reach the top floor, there are a few cafés and local food shops and one access to a small terrace outside. If you visit the mall, you might as well go up there, but it's not worth a trip by itself per se. The view is not that great.
😃 San Miguel Market:
It's an indoor gastronomic market. The stalls with their dishes are tempting, but everything is quite expensive. We did the tour for eyes' pleasure!
Las Letras – Retiro
😍 Prado Museum:
The Prado Museum is Spain's main national art museum. Its collection dates from the 12th century until the beginning of the 20th century. It is considered to be the best collection of Spanish art. Francisco Goya is the most featured artist, but other artists such as Hieronymus Bosch, El Greco, Peter Paul Rubens, Titian, and Diego Velázquez are also in the spotlight. Velázquez' best-known work, "Las Meninas," is on display. I found this work really enigmatic indeed. Even without knowing its history, one is drawn to the characters, their expressions, and the painting's general atmosphere.
ℹ️ Visiting time: 1 hour 30 minutes, given that not all rooms were open for viewing due to COVID-19. On a regular day, you might have to spend twice this time if you want to see everything. The museum is vast. Remember to take your headphones; an application gives you commentary and explanations on a large number of the works.
😍 Reina Sofia Museum:
It is here that one can admire,"Guernica," one of Picasso's most famous paintings. There are a few others of his during the visit and also paintings by Miro and Dali, two other famous Spanish painters.
The collection includes more than 11,000 works on display. Just imagine the size of this museum! Going from one room to another, it was like we were traveling through different worlds. Sometimes the distinction isn't obvious, but it made the visit much more interesting. The museum's site where one can find a preview of the various collections → https://www.museoreinasofia.es/en/collection
ℹ️ Visiting time: We stayed around 2 hours 30 minutes but there was still more to see. To complete the tour, it would have taken us one more hour. By this time, our eyes were satisfied. We then moved on to El Retiro park to visit The Crystal Palace and the Velázquez Palace, which were close by and next on our list.
😍 El Retiro Park:
For me, the perfect park, the second largest in Madrid. It is magnificent, immense, shaded; one can sit in a quiet corner to have a picnic and relax. For us, it was our favorite retreat whenever we were tired and just wanted to do nothing. A little tip: take a small towel to sit on. The park is watered frequently in the morning, and the grass always stays a little damp.
Nos week-ends hors de la capitale
😍 Alcalá de Henares, Aranjuez, and Toledo:
This two-day tour took us first to Alcalá de Henares, the birthplace of the writer Miguel de Cervantes, and also a renowned university city in Spain. We continued toward Aranjuez. This village, once reserved for the Spanish nobility, is home to a majestic royal palace. And finally, our last stop was Toledo, the first capital of Spain. These two days were a great dive into history with the discovery of these wondrous villages.
😭 El Escorial:
It is a former royal residence that has become a monastery. It is approximately 50 km from Madrid's center, and one can plan the visit over one day. From what I've seen in pictures, the architecture, the gardens, and the surroundings are beautiful. If I could go back, I would definitely make time for a trip.
😃 Santiago de Compostella:
The city that every catholic knows and where the roads lead to. We stayed there for two days. It was enough to go around the town and walk a little bit down the renowned path. We did 5 km 😉 The old town is sublime, and its history quite intriguing.
🙂 Warner Aquapark:
For me, this park should be avoided at all costs. Expensive, super crowded even though it was limited to half its capacity. As there is no place to sit apart from deckchairs, it is a hassle when they are all occupied. After an hour of going around in circles, we finally found two sunbeds. To top it all off, the queues for the attractions are endless. So we settled for the wave pool. You might as well go to a municipal swimming pool. Less expensive, € 2.50 instead of € 30, for a better time.
😍 Valencia:
Valencia is located two hours by train from Madrid. It was, therefore, our choice for a weekend by the sea. Like most cities we visited in Spain, it is a mix between a modern city and a beautifully preserved historic city center. A little further are the sea and a vast beach along which an esplanade allows for a delightful walk. And of course, there is a host of bars and restaurants to satisfy your thirst and appetite. In any case, it was a lovely getaway crowned by the tasting of our first paella: Paella de Valencia, the regional specialty. It uses rabbit meat!