Here is a link for our full 12-day itinerary from Reykjavík.
We are on the fifth day of our journey, beginning our ascent towards the island's north.
If you are curious to know the beginning of our journey, here are the links:
Day 1 and 2, the

Golden Circle

, click here 😊
Day 3 and 4, from Hella to Höfn, South Iceland, click here 😊
Best things to do in Iceland
Here we are in the heart of the matter — what to do when you are in Iceland?
Well, you are spoiled with choices, and that's good. 😃 To help you pick, below you will find some places I visited and the activities I've tried. All you have to do is make your choice.
My personal opinion:
😍 Do not miss
😃 Go if you have time
😐 Not very interesting
😭 Unfortunately, we couldn't do it
Day 5: From Höfn to Egilsstaði – 308 km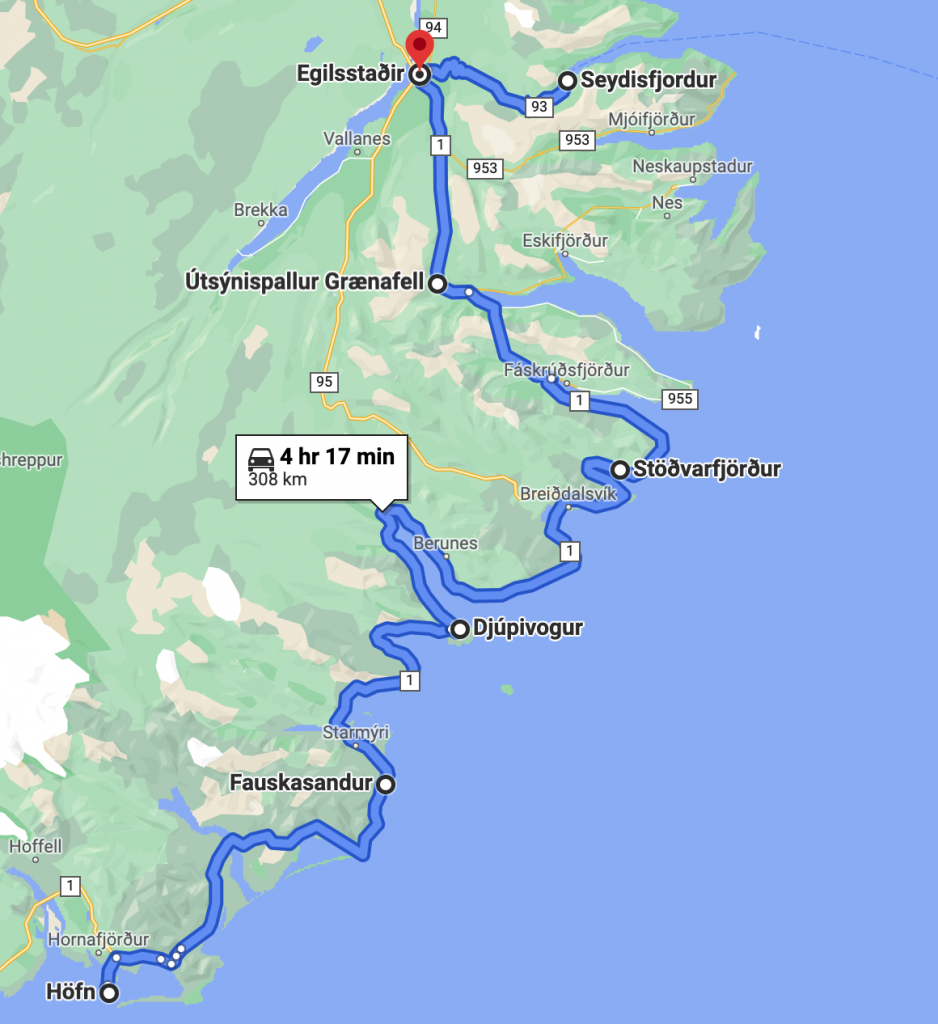 The stops we planned for the day
Fauskasandur

Distance from Höfn 61 km – 51 min
Visiting time 30 min

Djúpivogur natural hot bath

Distance from Fauskasandur 44 km – 37 min
Visiting time 30 min

Stöðvarfjörður Museum: Petra's Stone Collection

Distance from Djúpivogur 79 km – 1h05
Visiting time 1 hour

Seyðisfjörður

Distance from Stöðvarfjörður 98 km – 1h20
Visiting time 1 hour

Egilsstaðir

Distance from Seyðisfjörður 27 km – 25 min
Stop for the night
The beginning of the day
We left Höfn early in the morning as the day promised to be long.
We scheduled a four-hour trip with several stops planned and wanted to have time to enjoy everything.
But as a plan is made to be changed, we started with an unexpected break, just ten minutes after the departure. We were drawn by the beautiful horses, and we couldn't resist going to pet them.
These horses are extraordinary, kind, and not shy at all. Even if they all have the same build, they are all so different.
They are also the pride of Icelanders.
I devoted a post to this breed of Icelandic horses to pay homage to them. If you are curious to learn more about them, it's here.
We left delighted to our new destination, Fauskasandur.
😍 Fauskasandur beach
This beach is the ideal place to admire one of the specificities of Iceland, the black sand.
The beach is famous for the massive block of basalt that stands between the ocean and the shore. Another curiosity of nature!
Its size and imposing appearance give the place a magical atmosphere and reinforce the mystical feeling that one feels when traveling in these practically virgin lands.
Why are there black sand beaches in Iceland?
Three elements allow the formation of its beaches: basalt, andesite, and volcanic glass, which are three materials from volcanoes.
Here, basalt lava rocks along the coast are responsible for this phenomenon. The rivers that descend from the mountains carry pieces of basalt to the beaches in their passage. And it is those black stones that turn into sand over time by the action of the waves.
A few photos later, we left to appreciate the benefits of Iceland's specific hot springs.
As you can imagine, the temperature outside in October is freezing, and we had a little trouble imagining ourselves in swimsuits outside. But that's the price to pay if you want to bathe in this natural hot water pool overlooking the sea.
So we resumed our journey towards Djúpivogur.
😍 Djúpivogur, the hot water pool
The source is wonderful and all round, covered with luminescent green algae, a phenomenon that we noticed in each hot spring.
We passed the fountain and walked along a small stream to discover with joy, behind a small hill a little further, the pool where we would bathe.
We were so lucky — nobody in the water, we had the place to ourselves. So we quickly put on our swimming suits and plunged into the pool.
The water was warm, and the superb landscape illuminated by the dawning light enveloped us into a cozy atmosphere. It was a truly magical moment of relaxation.
However, I must confess that getting out of the water was a bit rough!
It's reinvigorated that we went back in the car to pursue our day trip.
For the rest of our journey, instead of the straight main road crossing the land, we followed the coastal road to discover the fjords of the island's east coast.
😭 Stöðvarfjörður, the stone collection of Petra
The stop is worth the detour only if the museum of the stone collection is open.
We took a short break in this village for our picnic. We were hoping to get a coffee, but like many remote villages on the island, there were no bars.
Unfortunately, during our passage, the museum was closed due to COVID-19 restrictions.
I was a little disappointed because it is a somewhat surprising museum with a particular history — one of the world's largest private collections of stones.
Its history
The collector Petra María Ljósbjörg was born on Christmas Eve 1922 in a small traditional farm on the northern shore of the Stöðvarfjörður fjord.
As a child, Petra has always been passionate about beautiful stones.
In the beginning, she collected those she could use to draw or as decorations for the small huts — called "gullabú" — she built in the village. She also used them as a dinette and "food" when playing with her friends. Then she started looking for other stones, now choosing them for their beauty and rarity.
It is how, for 80 years, Petra, greedy and always passionate, fed her collection, which has today become a testimony to the geological richness of East Iceland.
The rest of the story is a series of fortunate events.
As there was no more space in her house, Petra displayed her finds outside. The stones, thus visible, began to attract Icelanders walking through the village who asked to admire the rocks.
It was the 50s, and little by little, word of mouth created the reputation of this incredible museum that survived Petra, who died in 2012.
A fun fact about the origin of the name Petra. It is rarely used in Iceland and comes from the Greek "Petro," which means "stone." Was it perhaps her destiny?
I would have liked to admire these stones, too, a testimony of the life and passion of a woman who could share her love for the beauty of what nature offers us.
We left empty-handed and disappointed, but still passed through a tranquil landscape with magnificent views.
After 1h20 of driving cut by a photo stop at the Útsýnispallur Grænafell viewpoint, we arrived at Seydisfjordur.
😍 The village of Seydisfjordur
It is a small village at the mouth of the fjord of the same name.
Seydisfjordur's economy has always been mainly fishing and fish processing. But with the closure of the only factory a few years ago, even if it remains an important fishing port, tourism has become another focus for the village.
Seyðisfjörður is well-known for its colorful street, unique church, and old wooden buildings.
Some even date back to 1848, when Norwegian fishers settled the town.
We took a tour of the village and its pond. The mountain's reflection in the still water was perfect, and it was hard to make out the shore.
The night was beginning to fall, and it was time to head to Egilsstaðir for the night.
This city was only a stopover in our trip, and we had not planned to visit it.
Final word
It was a beautiful road trip full of lovely surprises. We were a little afraid we would get bored during this crossing, but eventually, we enjoyed it. Despite everything, even sitting in our car, we discovered Iceland. We passed such different landscapes that the monotony could not settle.
As usual, we are in a hurry to start a new day.