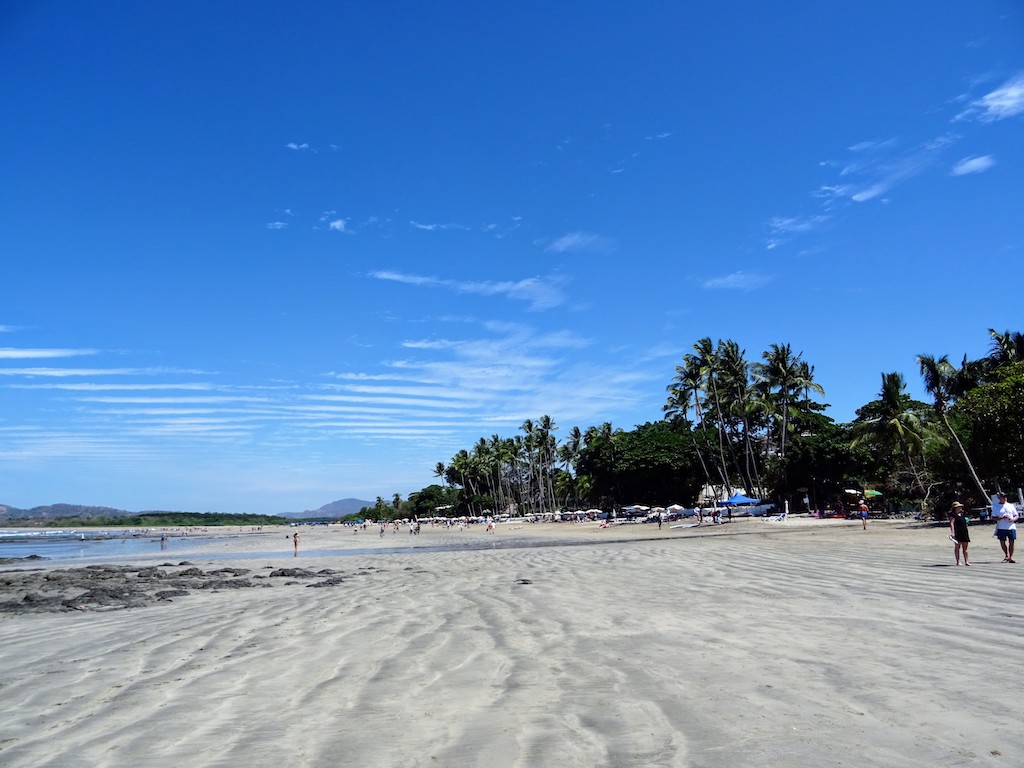 Tamarindo
We made the decision, Saturday, we go on a weekend far away from our little village. "Far" is a big word, because we only have our scooter and a limited confidence in it! Our destination will be Tamarindo a village located 30 kms south of Potrero, on the Nicoya Peninsula, the largest beach village in Guanascate with about 6,300 inhabitants. It's still a village on a human scale!
As Tamarindo is very well known for its surf spots, so it will be Saturday afternoon's activity for my husband, and for me reading, walking on the beach and sunbathing.😃
Our journey
So we leave Saturday morning around 9:00 a.m. for our 1 hour road trip. It's already hot and we feel the effects of the sun. I'm perfecting my great trucker tan! But I'm going to fix it this afternoon.
We arrive at Tamarindo, and as the weather is beautiful and there are beautiful terraces by the ocean, we start with a coffee.
The beach is starting to fill up. Surf schools begin their lessons, and we see groups repeating their jumps on the sand to learn how to get up on their boards. Street vendors begin their hard days of come and go along the beach to sell drinks, mangos, bracelets and other souvenirs. Umbrellas and sun-beds are already in place and waiting for their customers. And the main thing, the waves are beautiful and there is not too much wind. It's going to be a beautiful day.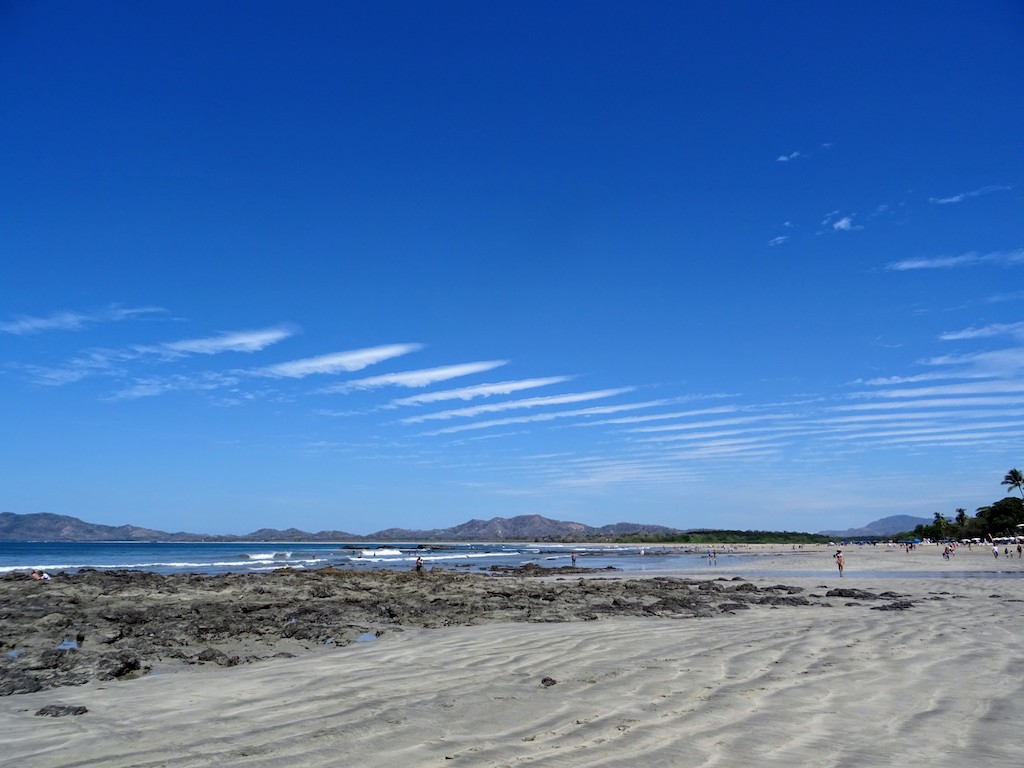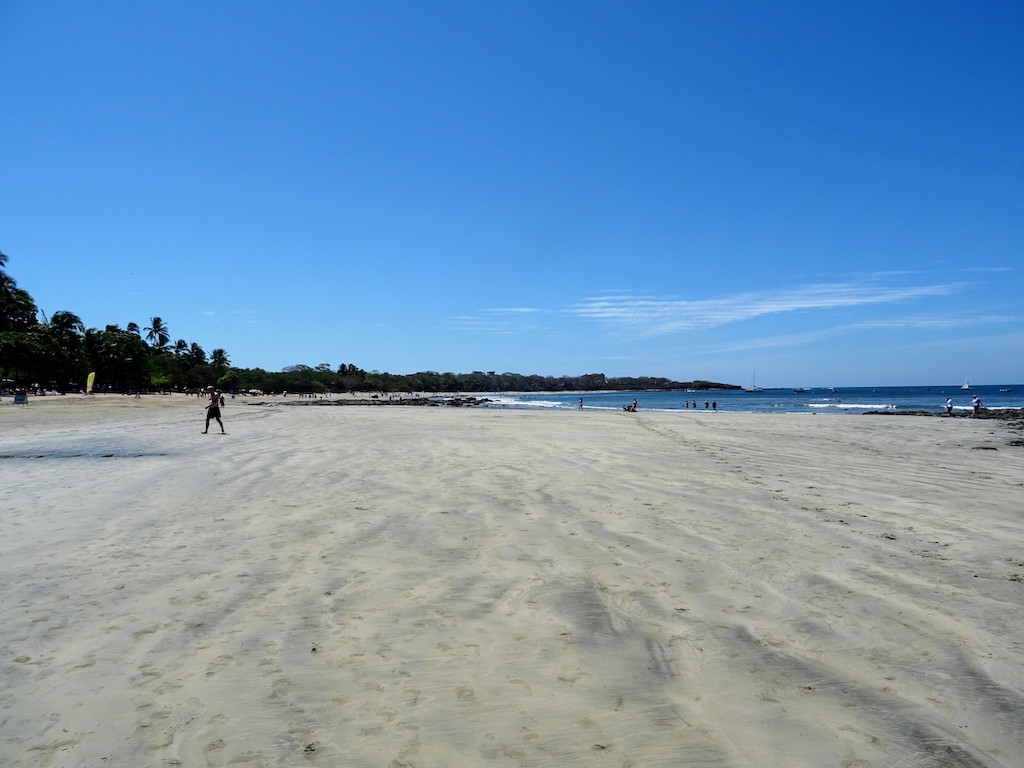 For lunch we decide for a picnic and will enjoy a good meal at the restaurant tonight.
We go in search of a supermarket, and take the opportunity to stroll through the center. The storefronts are all very beautiful and well arranged. There are plenty of souvenir shops, beach products and of course restaurants and tour operators that offer different excursions around the village.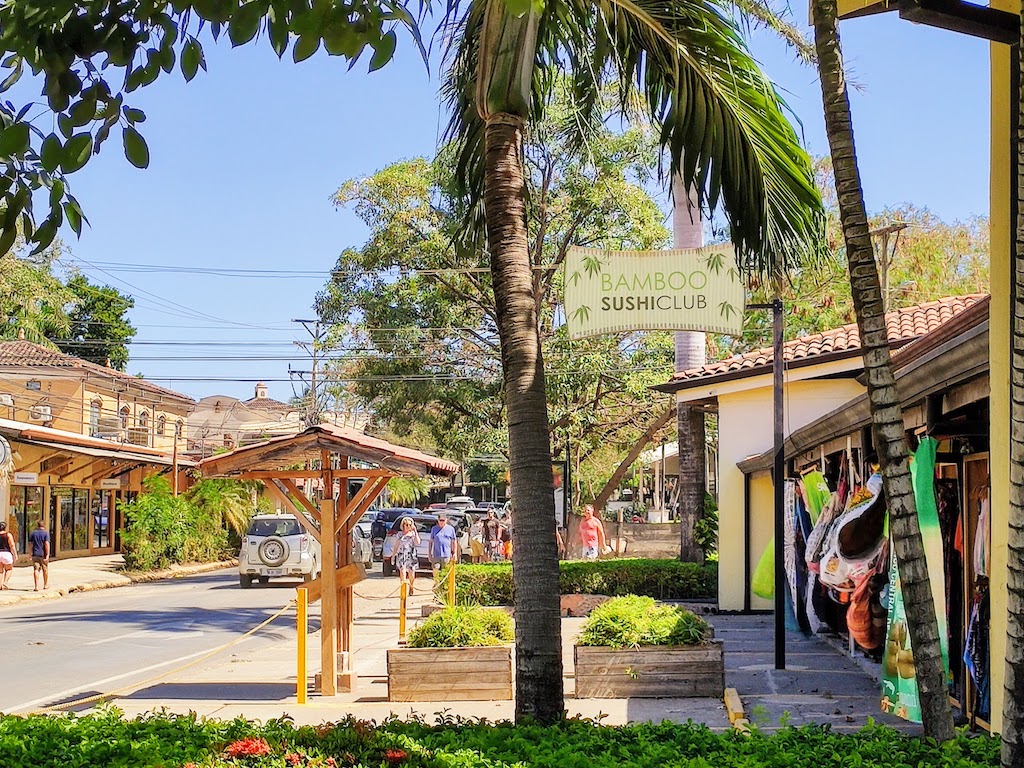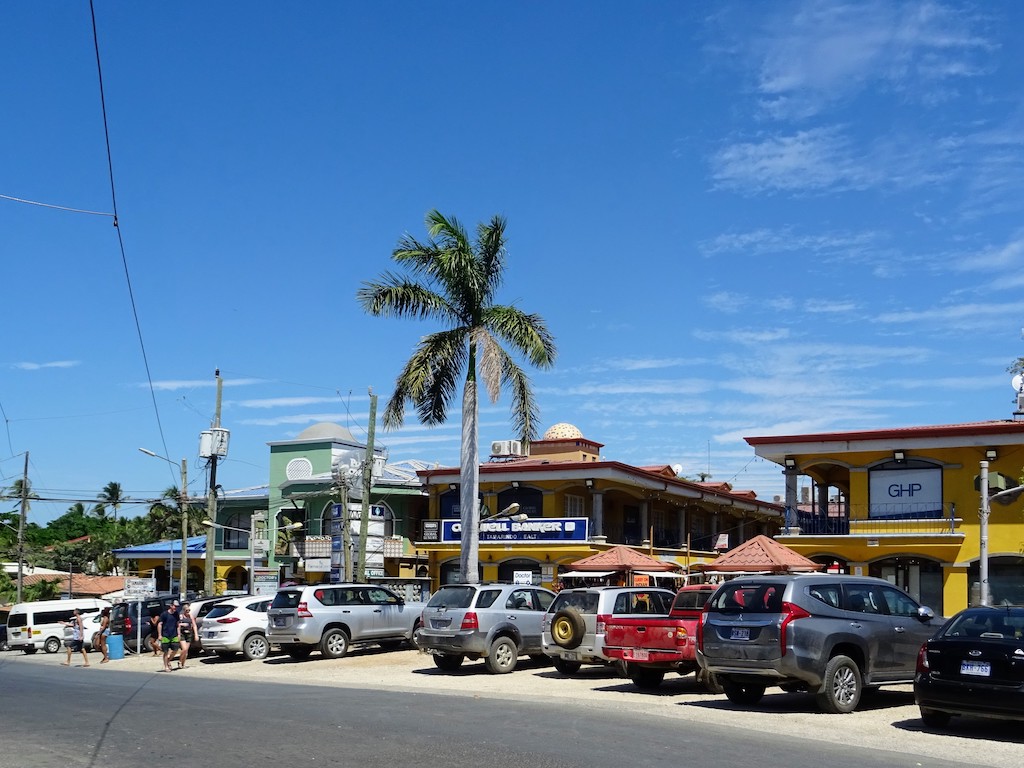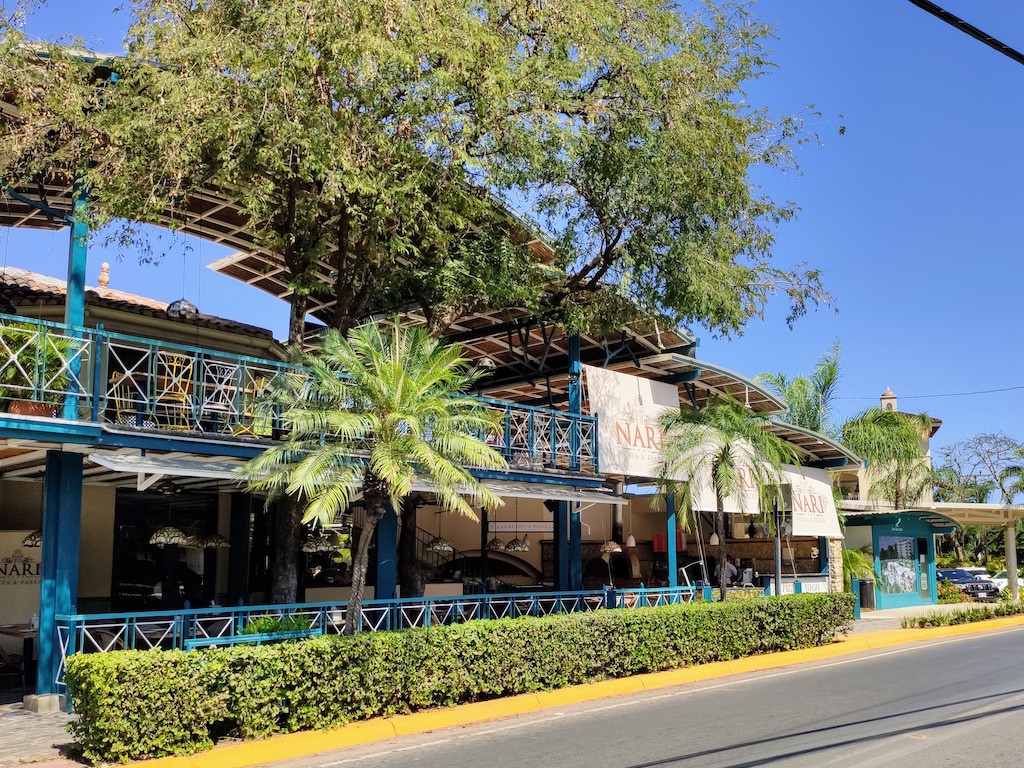 What to do in Tamarindo
We stop at an agency to see what we could plan for Sunday.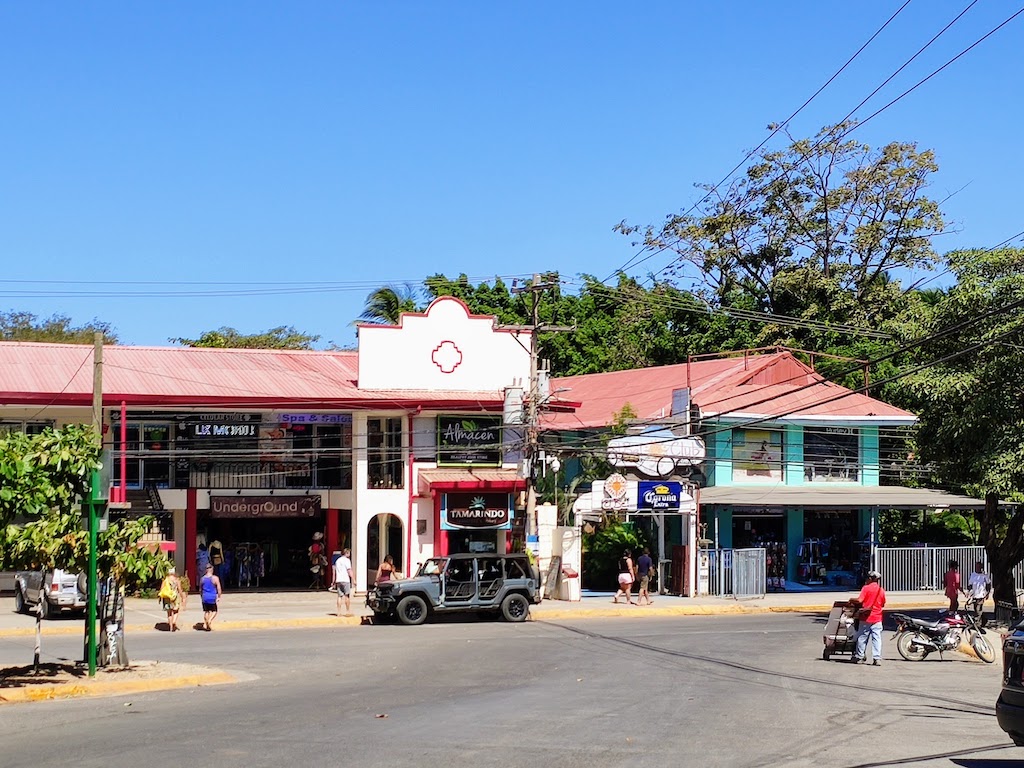 We would like to fish on the beach. In fact, in the morning we see a lot of fishermen who are in the water up to mid-thigh. Lots of locals and a few tourists, and we really want to try it. The funniest thing is to see them running on the sand to position themselves in front of the groups of pelicans who know how to spot the schools of fish, and later, the groups of pelicans get close to the fishermen who give them the fishing they do not want. It's a real exchange!
So we inquire, but unfortunately, this is not a proposed activity. They advise us to buy equipment, go to the beach and seek advice from fishermen. We're going to think about it!
The only fishing activity offered by the agencies is fishing at sea which is really for enthusiasts, because it takes several hundred euros for half a day. As other activities in Tamarindo, there are ATV rides, horseback riding, snorkelling, hiking, boat tours to observe nature. So we'll see what we fancy tomorrow.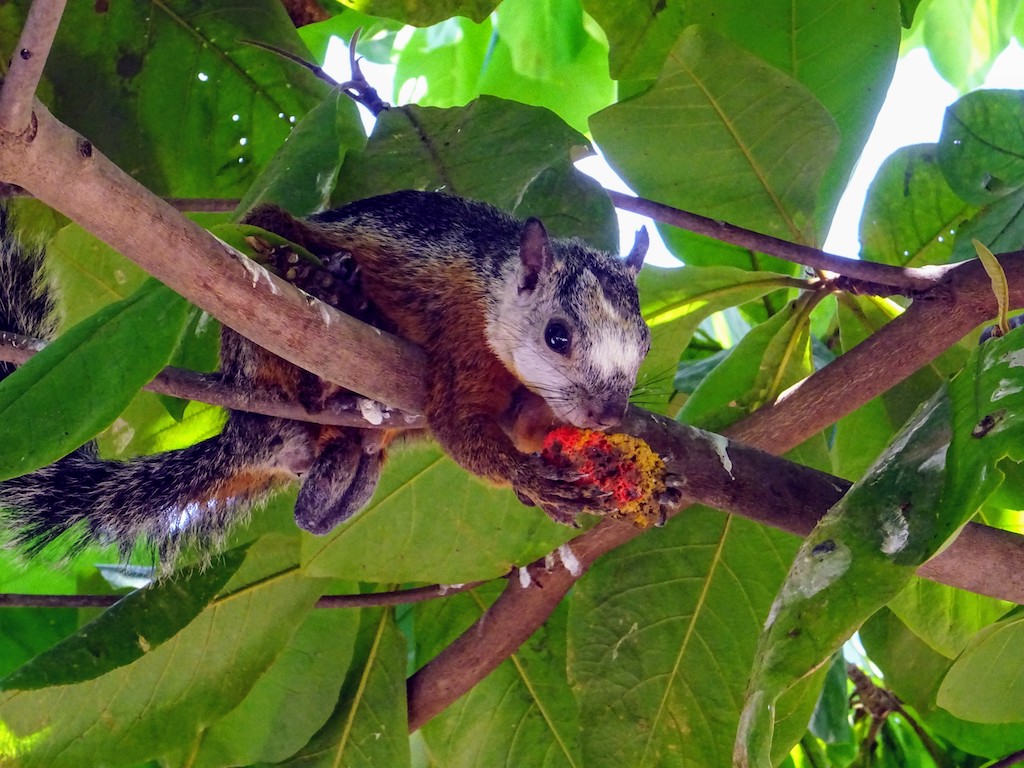 Our afternoon
We find our supermarket and here we are back at the beach to enjoy our day. Small encounter on our way!
For the rental of the surf, no need to worry. Just enter the beach, and there are rentals everywhere.
Sitting on my deckchair, facing the sea, I make the most of the moment, the temperature and the view of the ocean. I realize that I would never get tired of this weather and that I do not miss the cold and snow!
And our day goes by quietly…
It's time to go to our hotel to take our room.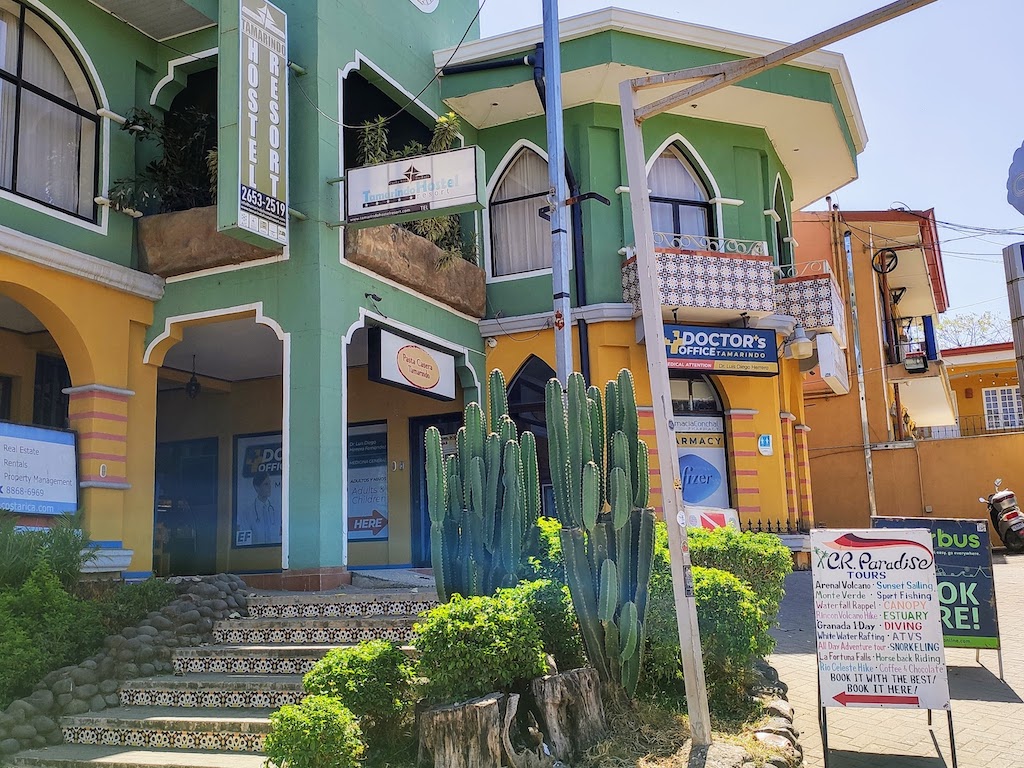 Our hostel
The advantage of Tamarindo is that everything is done on foot. It is therefore 5 minutes later that we discover our hotel. It is a hostel, with private bedrooms and bathrooms, as well as dormitories. It's super pretty, with hammocks in the common room and a great kitchen. We paid $77 for the room, but the night in the dorm must be around $20 per person.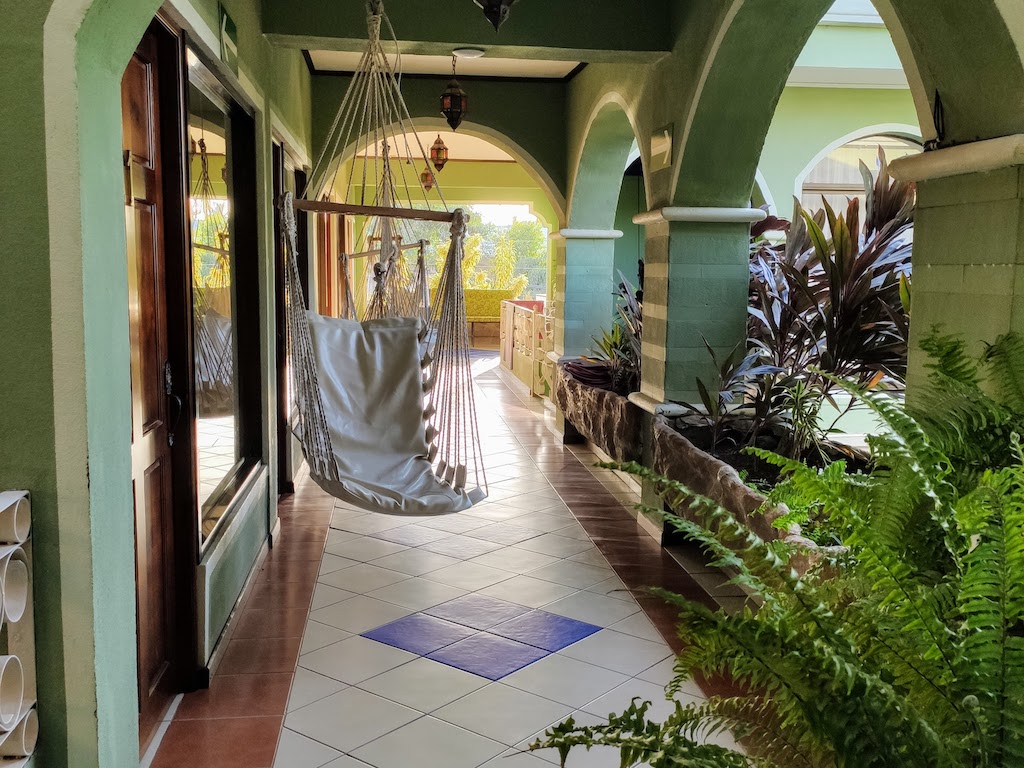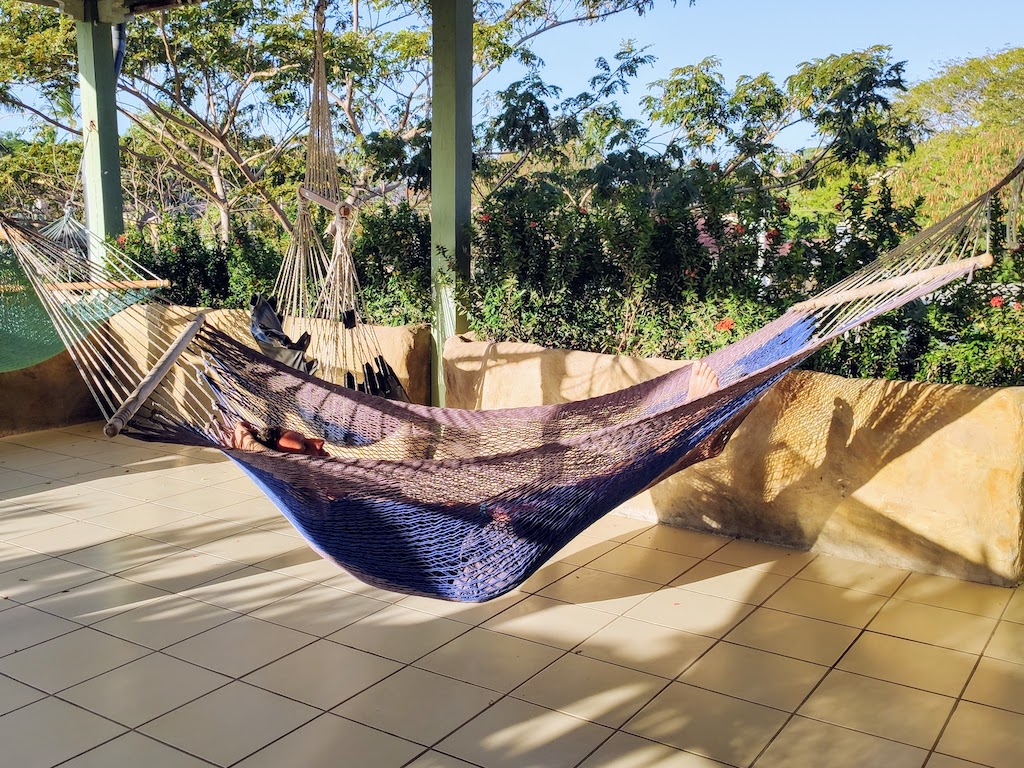 A good shower, and here we go again for the visit of Tamarindo. We walked the main avenue, and decide to go around the other part of the city. And there, always the same surprise. The main street is paved, but the rest of the village roads are dirt roads which always surprises us. On the side, beautiful houses with courtyards and grassed gardens, and in the middle a dirt road with potholes. I can't imagine the state of the roads during the rainy season.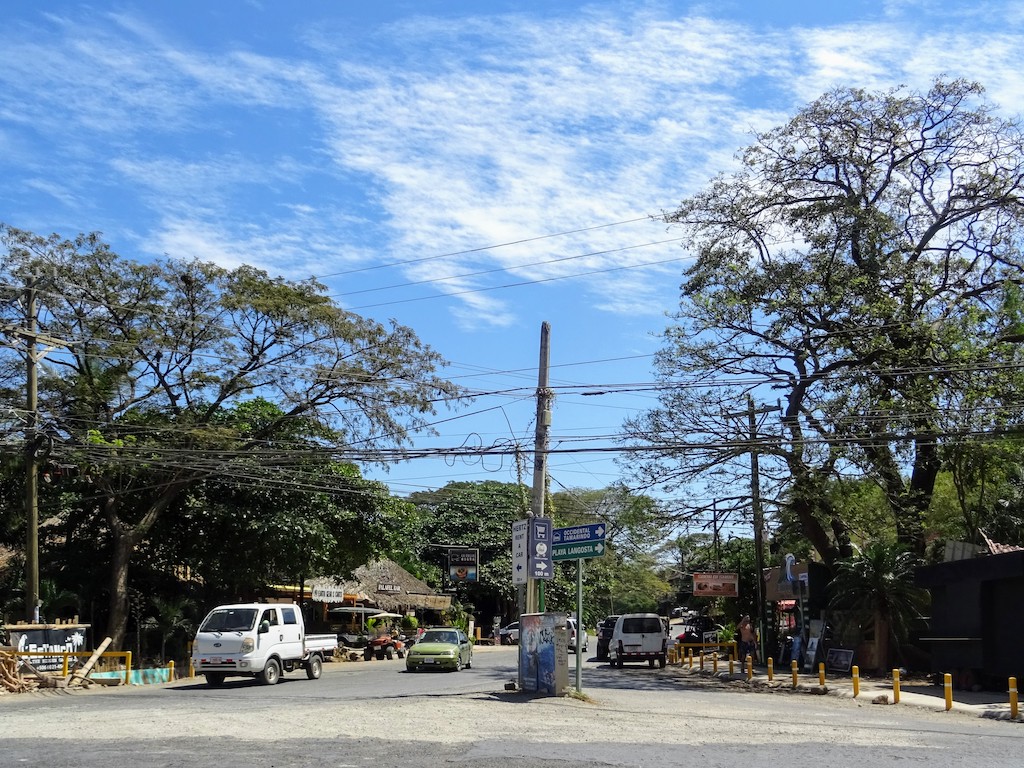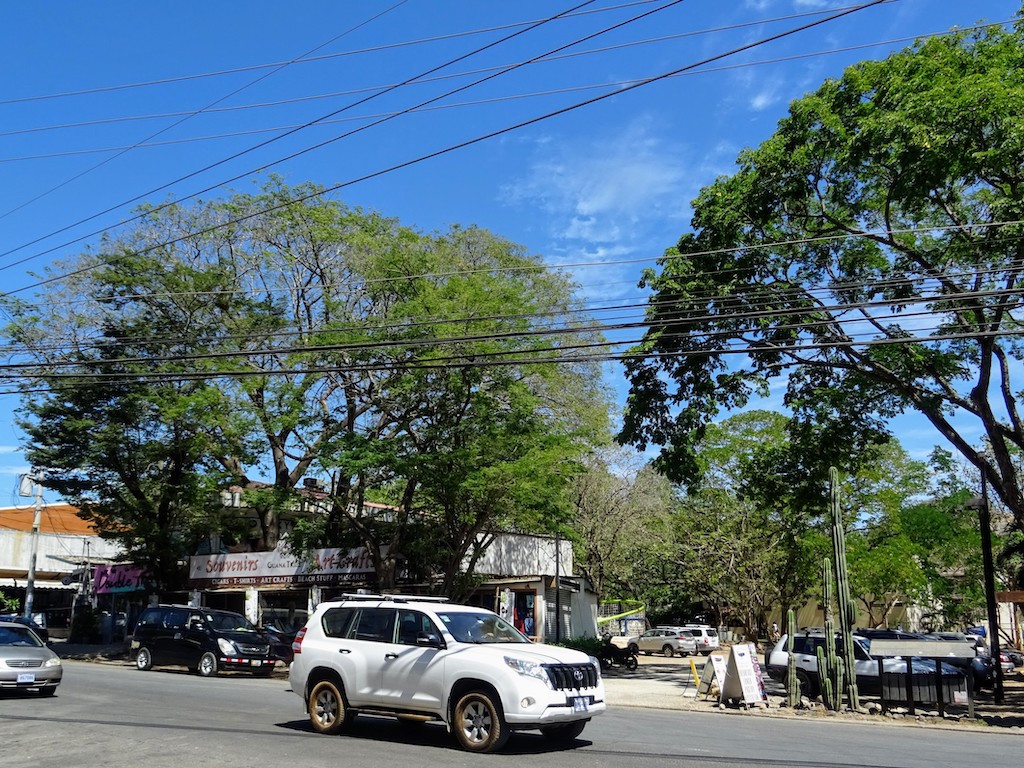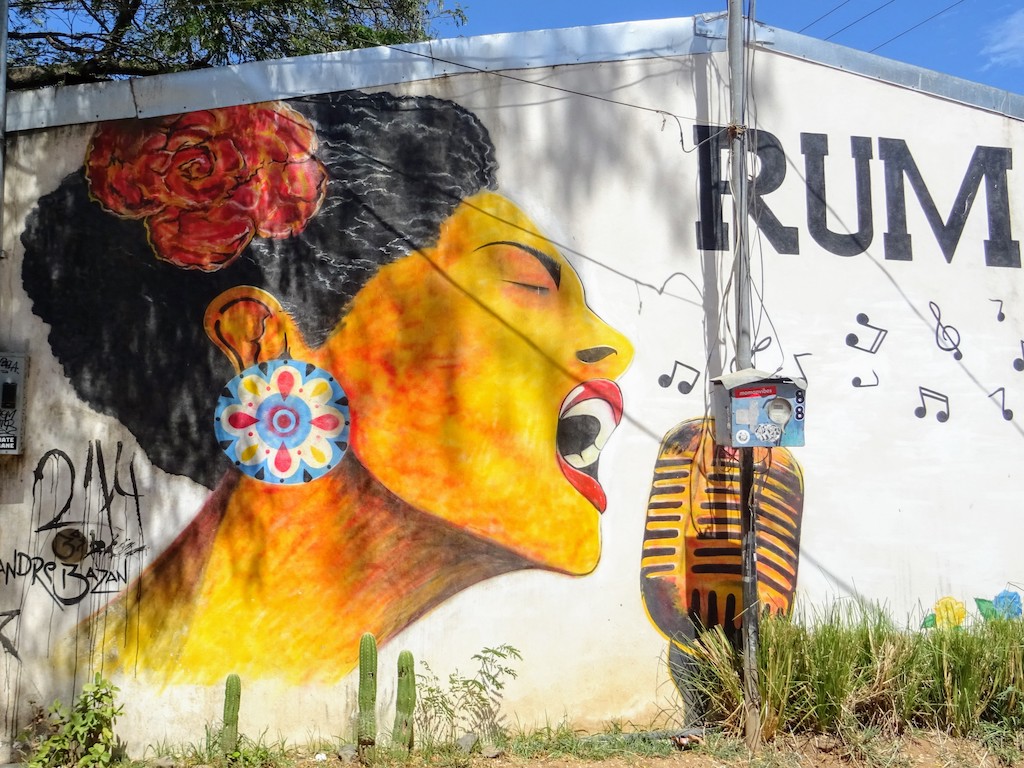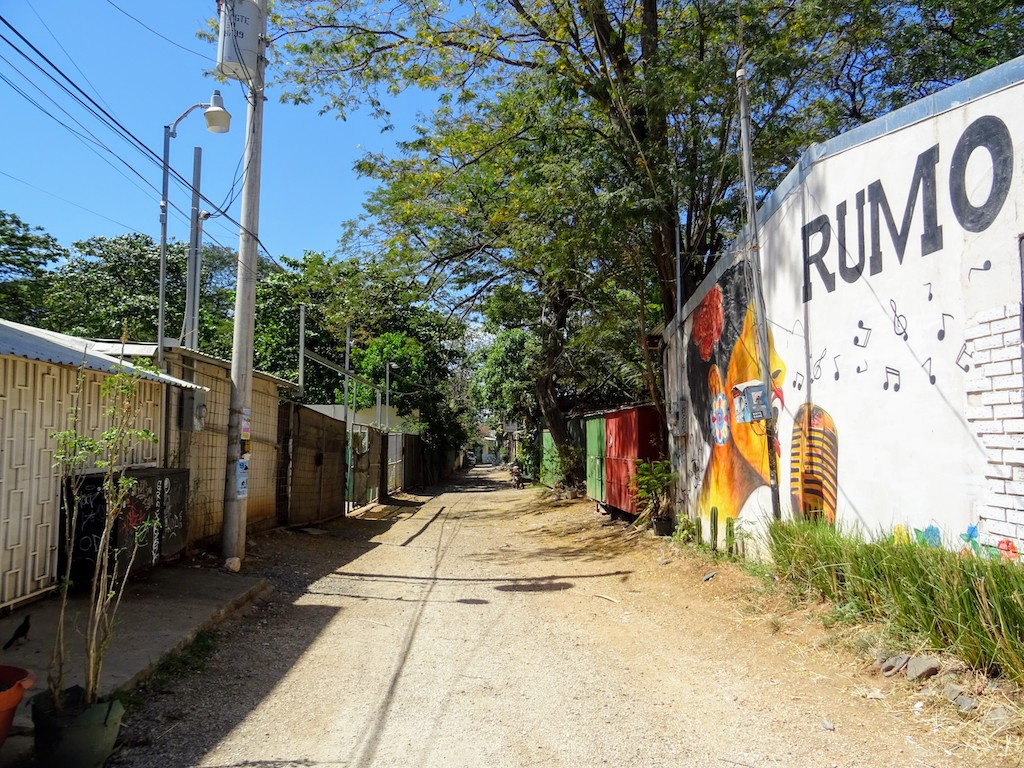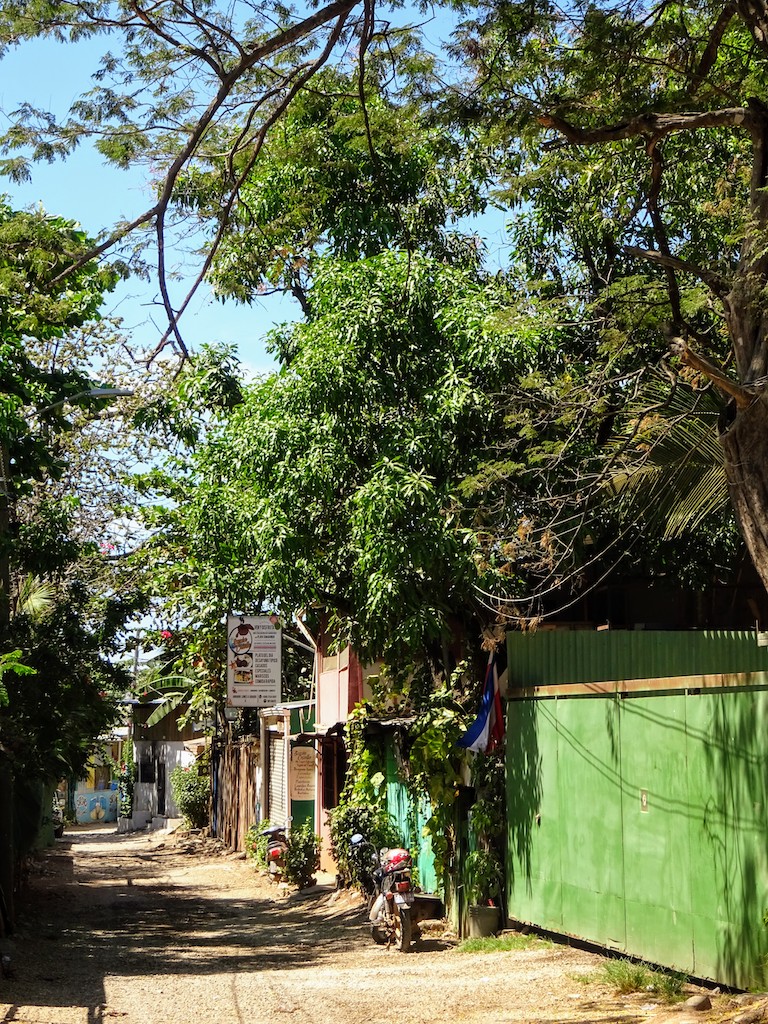 Sunset in Tamarindo
The atmosphere is "summer holidays by the sea" and we love it! And it is by the beach that we go to watch the sunset and to spend our evening.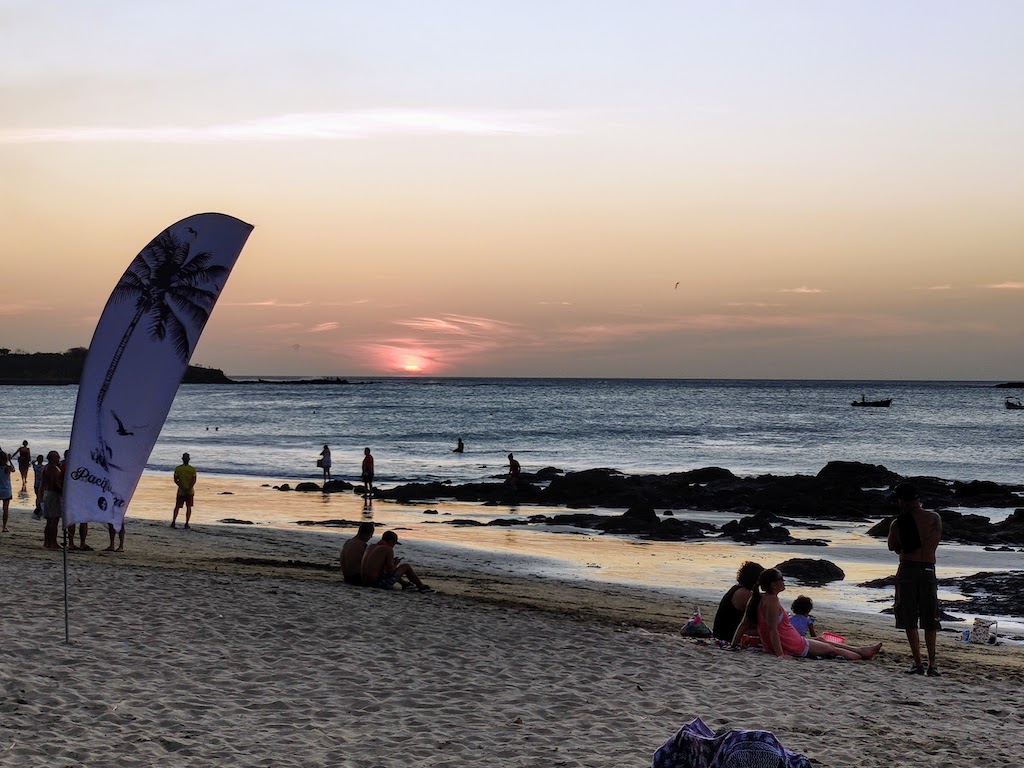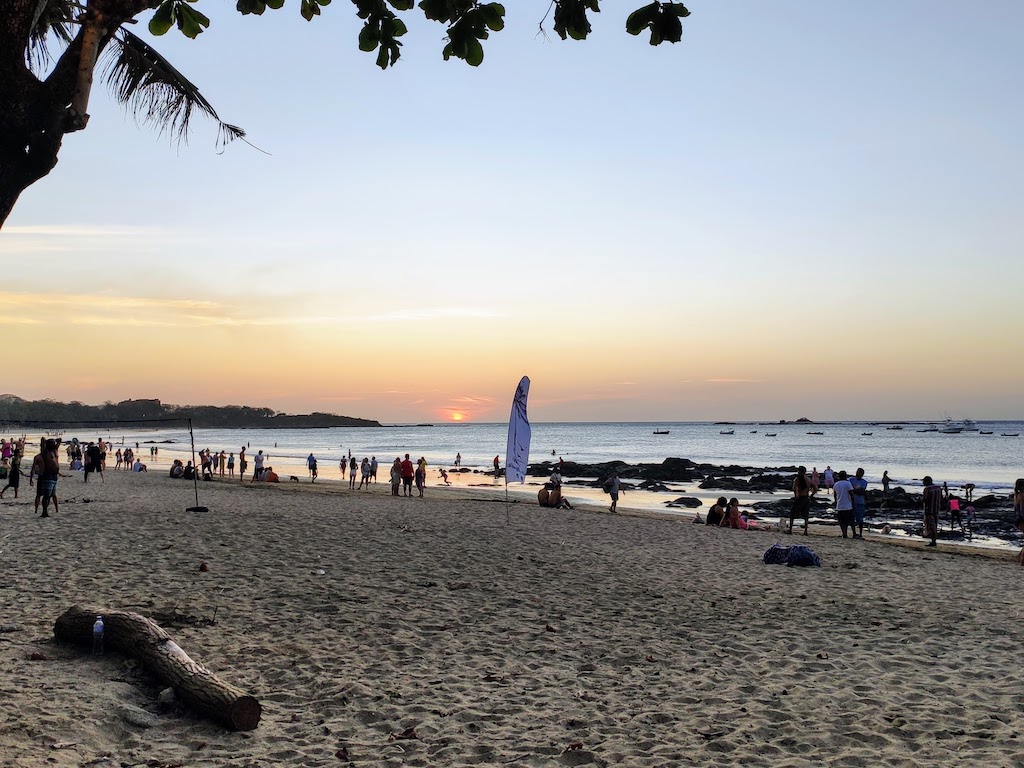 We find a restaurant on the beach that offers nice dishes, and a customer assures us that we are making the right choice.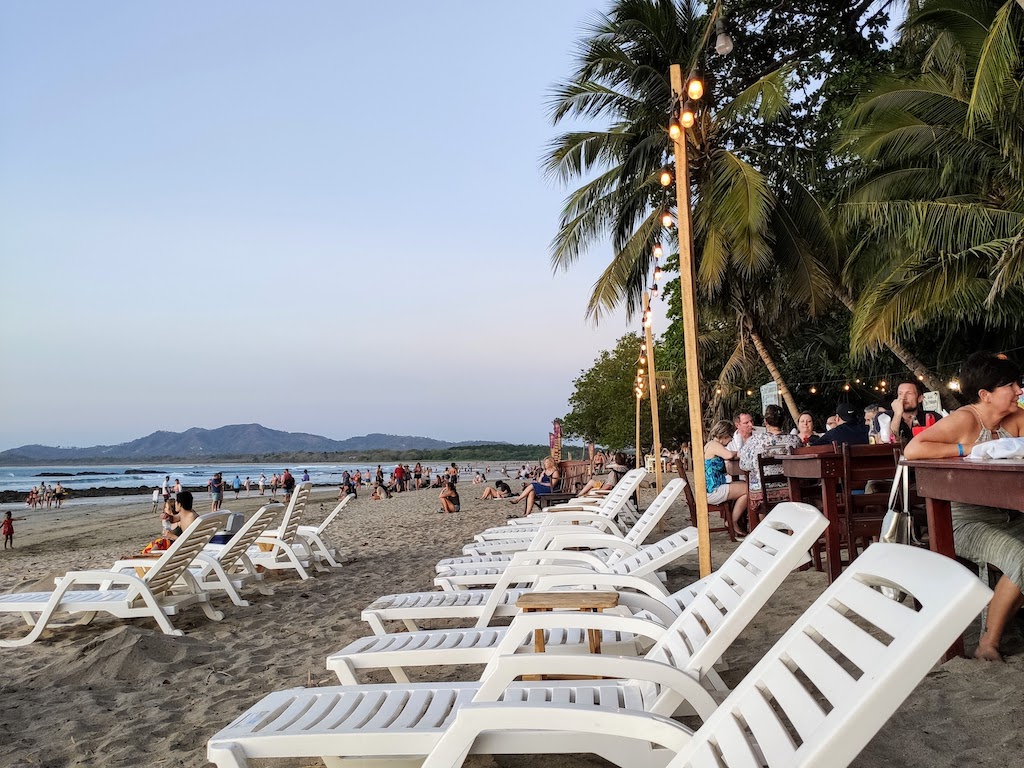 He tells us a little about his life, that he's from Panama City, and that the lobsters are delicious! Okay, but for us, it's going to be a Nicoise salad and a burger 😉
That said, the salad was delicious. The tuna served in the salad is a real tuna steak, and frankly it makes the difference. And as in every restaurant we went to, regardless of the type of restaurant, we are always welcome, the dishes are delicious, the plates appetizing and everything is homemade with fresh produce. What more do you want?
During the meal, the lights went out, and a beautiful fire juggling show took place in front of us.
So it's true that we are solicited all day long, to buy or in this case to tip for a show, but nobody insist heavily. Just say no with a smile.
But at the end of the day, we are less receptive! Someone asked us the time, and we said no thank you without really understanding the question. The funny thing is that the guy laughed and told us that he wasn't selling anything, that he too was a tourist and that he just wanted to know the time. And the most unlikely thing is that he came from Sao Paulo, our next destination, and he's a surf teacher! We exchange our phone numbers with a promise to see each other in 1 month. As they say, it's a small world…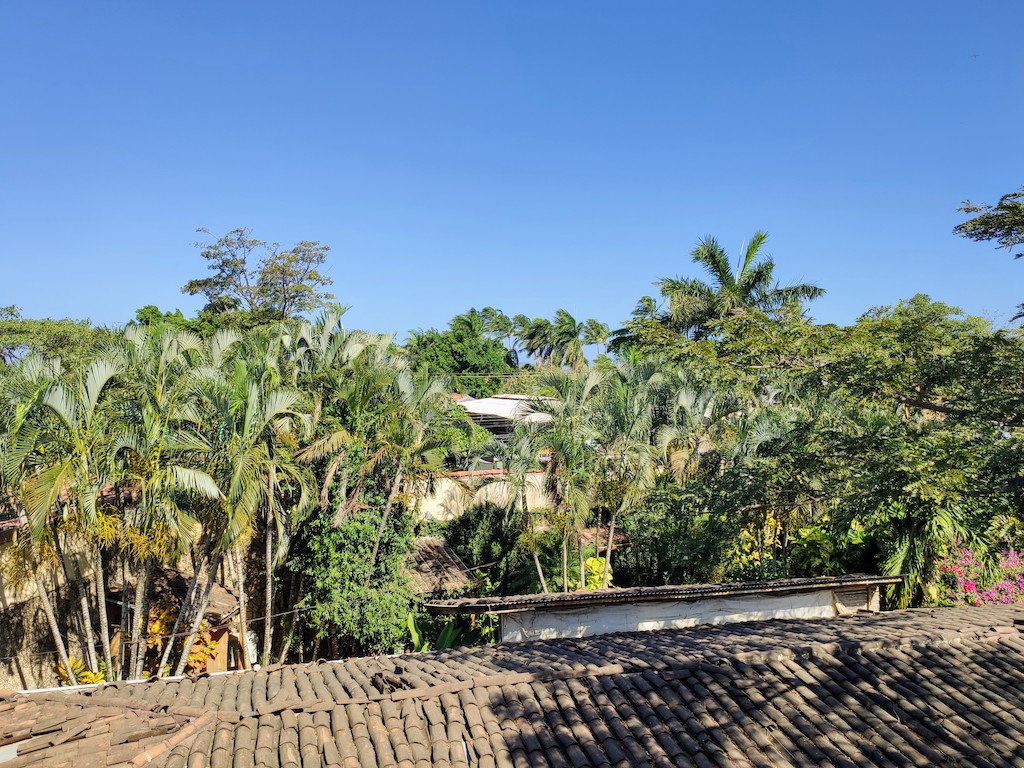 Last day in Tamarindo
Sunday. We wake up after a good night, have breakfast in front of the view from the hotel and take advantage of the hammocks to relax. A real magical Sunday morning!
But it can't last, we have to move, the time to checkout approaches.
This morning, all our choices of activities fall through the cracks, because we realize that we only have our flip flops. I'm ashamed to say it, but we forgot our sneakers! It's just amazing for travelers who should always be ready for anything! 🤣
Our scope of action is reduced to… the beach. We decide for a walk along the ocean. The beach is relatively long, and it will be nice. That's without counting on the wind! Today is a very very windy day, and it's painful and not cool at all to be whipped by the sand. 😟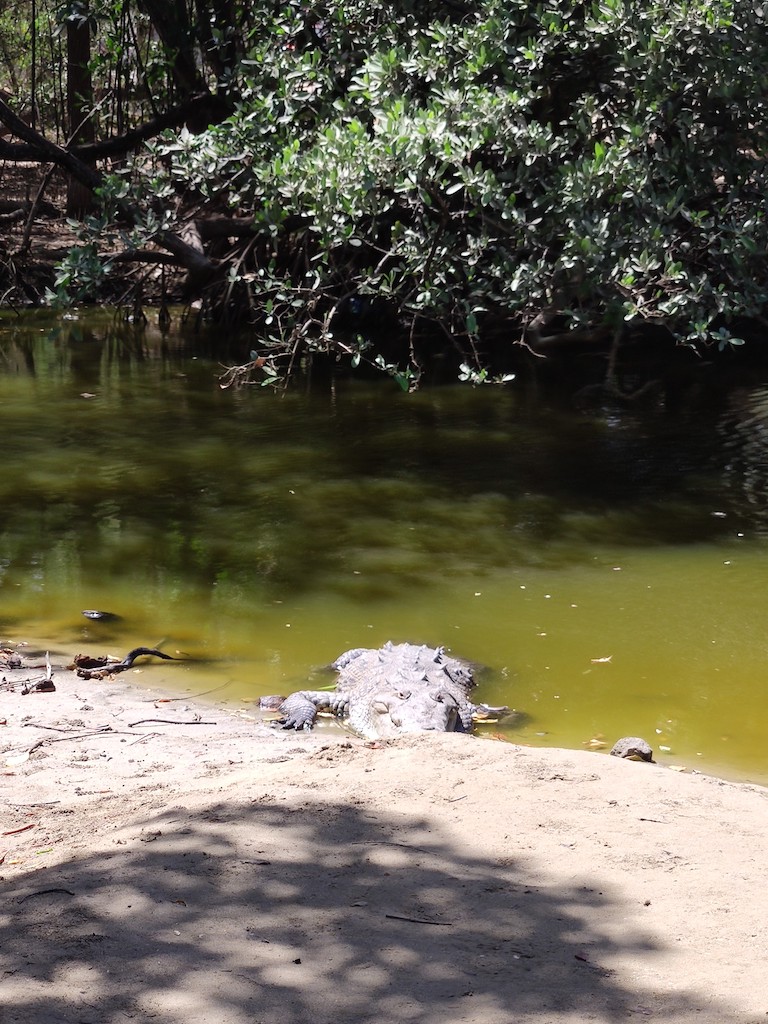 Our walk will be a little shortened, but we have the good surprise to see a crocodile right there, less than 50 meters from the beach, sunbathing. Our reward of the day!
And it's time to head back home. 🛵
To conclude
Tamarindo is a very pleasant village, which I would recommend for a surf, beach and relaxing holiday.